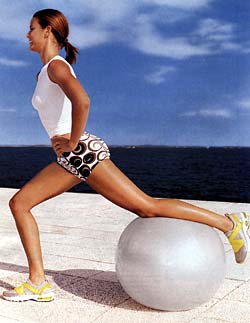 We all want to be healthy, fit and happy…but it can be so hard with our hectic lives. To help you start or stick with your fitness program, ask yourself these 6 thought provoking questions to make a fitness plan that works for you! Remember, it doesn't matter where you begin – what matters is your ability to ask the right questions and come up with a realistic plan that you can start and stick with.
#1: 'Get real' with yourself: Ask yourself, if I continue to live the way I am now, what does my health and wellness look like 10 years from today?" Do I like what I see 10 years from now?
#2: Strategize: Ask yourself, what one thing could I do that I know would make a tremendous difference to my health and fitness that I am not doing right now? What would it be? For example, lifting weights regularly? Stretching more? Walking?
#3: Create the plan: Ask yourself, what are my personal fitness and health goals and objectives? What do you want to accomplish? Write it down.
#4: Break it down: Ask yourself, what three action steps I can I commit to over the next 4 weeks to help me reach my desired goals? Remember to make them realistic and measurable. For example, buying a new pair of athletic shoes or committing to walking five minutes every lunch hour is a great start!
#5: Find a friend or coach: Ask yourself, who can I lean on for support, accountability and encouragement?
#6: Commit! Ask yourself, "Am I ready to be "all in"? This is the most important question. Making all the plans in the world do not mean anything unless you take that first step and commit. Now is the time to make a decision to push away all excuses and delays to capture your goals and dreams!
Once you've taken the time to create a written plan, put down a completion date (say, six weeks) – and get started.
There – you've changed your course for a destination of optimal health and wellness!"
Let me know what you think of the 6 questions and how they can effect your fitness plan!
Remember to "Win the Day!"
Coach Sean